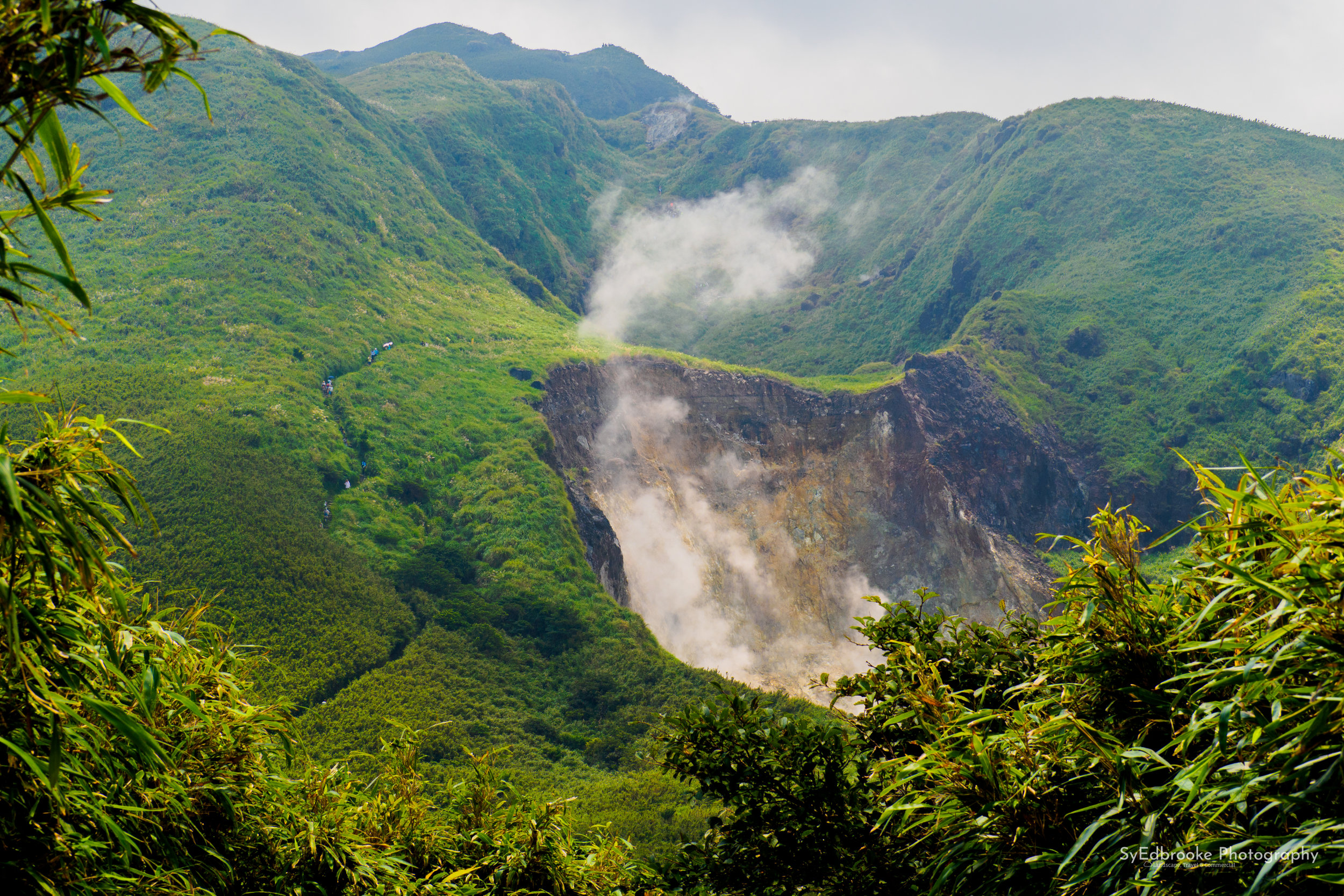 This particular hike is one that I've done several times now but it still keeps me coming back for more. YaoMingShan is such a large area that you need several visits to explore it all!
Getting there can be of the toughest tasks, as the bus service is spotty at best. There are several buses that go to the main bus station in the national park, but for the start the of this particular route you have to take the 1717 bus from near Taipei Main Station exit M3. Once the bus eventually weaves its way up to near the trail head you are greeted with a view of the main trail winding up the mountain face.
Once you start to near the top of the main peak you start to get several sweeping views of the valley facing east from where you just walked up. It can provide incredible sights if the weather cooperates. This particular time I hiked it, it was fairly hazy so visibility was low. That lent itself to some pretty black and white pictures though!
Once at the main peak you are treated 360 degree views of the surrounding mountains, valleys, coastlines and capital city. As I mentioned before, it can be hit or miss depending on the weather but for the most part you'll be treated to great views on a sunny day!
Hiking during the weekend compared to the weekday is a very different experience. The one week day I hiked this trail I saw two other people the entire time, but on the weekend it is very busy with lots of tourists and hiking groups. If like me, you are seeking that peaceful solitude a mountain can bring, it can be a tad jarring when the summit is packed full of people, but off peak hours its incredibly beautiful and quiet up there.
Once you move on from the main peak, the trail dips down slightly then back up to the East Peak Summit which is slightly smaller. It offers views of the valley leading towards the cow pasture field and the grasslands that prove a popular getaway spot in spring and summer for locals and tourists alike.
There is a nice trail that leads all the way through the park but it is quite a lengthy route. In this post I'll focus on this more manageable hike!
From the east peak it can offer fantastic picture opportunities. On a clear day Taipei 101 is clearly visible and it stands out, wonderfully layered against the mountain range in front and behind the Taipei City basin.
As you wind your way down the trail towards LengShuiKeng (it's fairly clearly sign posted) there is one spot on the way down overlooking what I can only tell is an abandoned tourist info spot maybe?? Either way it provides a really nice contrast for a stunning black and white picture with the comparatively modern Taipei 101 in the background!
Eventually the trail leads past a twin radio towers and onto a smoother path. Here you have the option to go either left or right. Right goes straight to LengShuiKeng bus stop, but if you take the time turn left (a la zoolander). It leads towards a dream lake. This little pond offers some nice reflections and frames the main peak of YaoMingShan quite nicely!
Walking around the edge of the lake the path starts to lead downwards. I have to admit I have no idea where it goes or how far! but it might be worth exploring again. There is a small innocuous path off the right of the main path that leads down the parking lot. From here you can see the small suspension bridge and the main bus stop. This can be a bit of a pain having to wait for a long time as weekends it is very busy. It's important to note that on weekdays the last bus from this point is 5pm (weekends 8 or 9pm) so it is useful to keep a eye on the time depending on the day you hike here.
You always tend to meet interesting characters as people seems to be more curious what a English guy is doing all the way up in the mountains normally. This particular trip there was the old lady who seemed rather interested in how old I was, to be honest I'm still not entirely sure what she was saying to this day :p I guess I have to work on my mandarin! The previous time I was hiking here, I met an older chap who was very interested in telling me all about his travels in Europe and beyond. Either way people are always pretty friendly out in the countryside!
Overall it's a great little hike that takes about 3 1/2 hours at a steady pace. The lengthy part will be getter there and back. Personally I feel the view is worth it though 100%.
I hope you found this guide useful! YangMingShan is a great place to visit if you want to escape the city and explore, or simply breathe the mountain air and chill closer to one of the tourist spots.
I'll be posting more guides in the future so stay tuned for more!
Sy Edbrooke